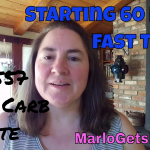 Day 557: Starting 60 Hour Water/Ketone Fast Tonight | House Sitting Near Murphy OR




I am house/critter sitting again at a beautiful home near Murphy Oregon for a few days. Take a look at the beautiful view of the valley.
I am also starting a 60 Hour Water/Ketone fast starting tonight (Sunday) at 6pm and ending 9am Wednesday. I am doing this as part of a group, 60 HR Water Wash and Keto Reboot. They do a 60 Hour fast every month or so. Lots of great info and support.
I do daily intermittent fasting, which works out great, but there are many advantages to doing longer fasts. The purpose is to repair, regenerate, reset and reboot our body both physically and psychologically. We want to initiate autophagy through caloric restriction. The term autophagy means "self-eating," and refers to the processes by which your body cleans out and recycles various debris, toxins, and damaged cell components. Through autophagy we are able to help eliminate lose skin from losing weight. I am very interested in this.
Watch my update below for all the details.
If this helps you and/or inspires you please let me know. I would love to hear from you and love to help you get healthy, lose weight and just feel better!
Check back tomorrow for another update.