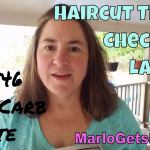 Day 546: This Generic Food Has More Carbs Watch Out | Hair Cut Time




Hair cut time. Finally! It was getting so long and in the way. It makes me feel much better. 🙂
Be sure you check the labels on your foods. Sometime similar items including generic versions have way more carbs. I talk about one in this update.
Also found some low carb deals.
Watch my update below for all the details.
If this helps you and/or inspires you please let me know. I would love to hear from you and love to help you get healthy, lose weight and just feel better!
Check back tomorrow for another update.