Day 12: Low Carb Chicken Taco | Lots Of Energy Today




Today I am feeling great with lots of energy. My keto supplement is really helping me keep up the energy, my focus, I am sleeping better and I don't feel hungry. Today I even got on the treadmill for 10 minutes. That is a great start for me.
Watch my video update below:
In my quest for variety in our food, I made a low carb chicken tacos. Sooo good!
We found low carb tortillas, melted cheese on them, added chicken, salsa, sour cream and lettuce. Awesome!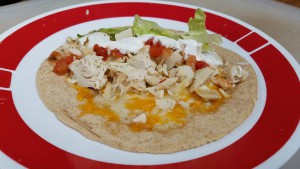 I got the tortillas at Winco here in Grants Pass, Oregon. They are Mission Carb Balance. I got the wheat because they only have 4g net carbs, the white has 6g. I didn't want those extra 2 carbs and the wheat tastes real good.
Check back tomorrow for another update.
If this helps you and/or inspires you please let me know. I would love to hear from you.
~Marlo