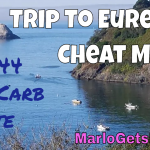 Day 544: Trip To Eureka | Cheat Meal | Wal-Mart Low Carb Deals




Took a trip to Eureka, CA to visit my Gpa. Yes, I had a cheat meal, but right back on. Don't let a cheat be an excuse to fall off the wagon. 🙂 Also, found some low carb deals at Wal-mart.
Watch my update below for all the details.
If this helps you and/or inspires you please let me know. I would love to hear from you and love to help you get healthy, lose weight and just feel better!
Check back tomorrow for another update.