Changing MyFitnessPal Settings For Low Carb Keto Diet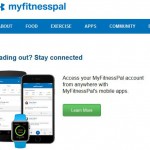 When I first started my low carb lifestyle journey, I didn't track of my daily food intake. I knew I needed to be under 20g of carbs per day, so I would just look at the labels and only eat things that are zero carbs or close to it. At first this works out okay, when you first start you are just getting used to things and figuring it all out. After that it is best to keep track, so you know if you are eating enough fats and enough calories. Also, if you hit a plateau it helps to figure out what is going on and to tweak your food intake.
MyFitnessPal is a great way to keep track of the daily food you eat. You can use it on your PC in the browser or download the app on your smart phone. I tried several others apps and keep coming back to this one as the best option. It has thousands of foods listed in it's food catalog. I am using the free version. You can pay to upgrade and unlock a lot more advanced features. I probably will upgrade in the future, but for now the free version works fine.
Now, let's setup your MyFitnessPall account for a low carb keto diet.
1) Go to MyFitnessPal and login to your account. If you don't have one, you can create one now. When you create your account, enter all your personal stats. You can choose how much you will workout. I just leave it at no workout to keep a base level.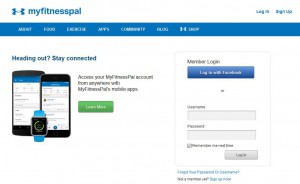 2) Now MyFitnessPal will give you their recommendations based on what you entered. You can disregard this since your weight loss will most likely not work like this. Their numbers are based on the typical American food pyramid standards, and your journey is going to be very different. You can expect to lose more! Everyone loses weight differently, and there will possibly be weeks when you lose no weight and only inches (but never fear, inches are great).
3) Now you need to calculation your macros. Go to the Keto Calculator and figure out the percentage of carbs, fat, and protein you need each day. Now that you have your numbers it's time to enter them into your settings. Go to My Home, Goals, then click the Edit button in the Daily Nutrition Goals section. Using the percentages you got from the calculator, the only changes you need to make are Carbohydrates, Protein,and Fat. You will not be able to use exact numbers, but these percentages have to equal 100% so get as close as possible.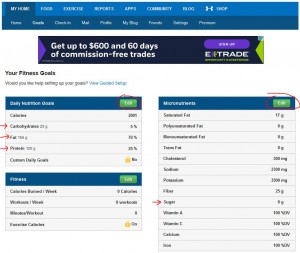 4) Now you need to update the Sugar. Go to My Home, Goals, then click the Edit button in the Micronutrients section. Set Sugar to 0 and Save Changes. Note: You will go over 0 with natural sugars from fruits and dairy, but you always want to be as close to 0 as possible. Never use products with added sugar (read your labels). No other numbers have to change.
5) Now update your Diary Settings. Go to My Home, Settings and click Diary Settings. The only thing I want you to change here is Sodium. Since you don't need to worry about this number, instead change it to Fiber. You will need to know your daily fiber count so you can keep track of your net carbs. You can change any of the other settings to your liking.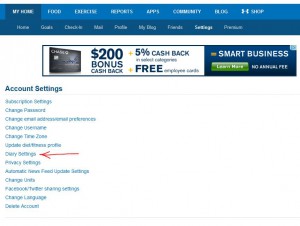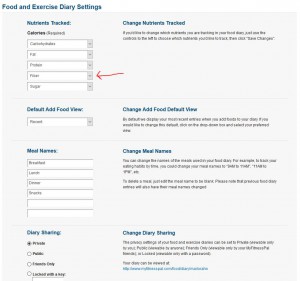 6) Now, be sure and download the MyFitnessPal app so you can keep track of what you eat while on the go.
Your account is now all set up to give you the best tracking system for your daily food intake and food planing for your Low Carb High Fat Diet Plan. Now you can go under food and start adding foods by searching in the box. Once you have added foods, you will notice that they come up under recent and frequent making logging your food even faster. You can also create your own recipes and easily add them to your food diary using the recipes button. Take some time to look around the site and the app and get familiar with how they work.
~Marlo
P.S.
For info on what I am using to add therapeutic ketones to my diet (get into ketosis/fat burning mode within an hour) and helping me increase my energy, suppress my appetite and lose more weight Click Here