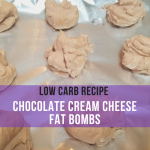 Chocolate Cream Cheese Fat Bombs | Low Carb Recipe




These are easy to make and are a nice little sweet treat. Chill them for a pudding like treat or freeze them for an ice cream substitute.
Ingredients:
2 Tbsp Butter (0g carb)
1/2 cup Heavy Cream (0g carb)
4 oz Cream Cheese (4.8g carb)
3 drops EZ-Sweetz Sugar Substitute (0g carb)
2 Tbsp Unsweetened Cocoa (6g carb)
1/8 Tsp Salt
Directions:
Mix all ingredient together and place in foil lined small loaf pan. Chill and serve.
My Variations:
I used Stevia drops so it took quite a bit more. Around 12 squirts. Sweeten to your taste. I may have used a little too much Cream Cheese. I could taste it too much so I added more Heavy Cream. You can put it in a  dish or a pan or do drops like I did. I put them in the freezer for about an hour instead of chilling them. This made them a little hard so I could take bites and chew them. Be sure and leave the Butter and Cream Cheese out to soften for a bit. It was really hard to mix and stir right out of the refrigerator.
My batch made 12 fat bombs. 86 calories, 9g fat and 1g carb each. See the complete nutrition facts below.

I enjoyed these. Hope you do too. 🙂
~Marlo