Day 5: Beautiful Blue Sky – Great Day For A Low Carb Burger




Today turned out to be a beautiful day–blue skies and warm! Flowers blooming everywhere…love it!
Today I am feeling really good. I'm sure the beautiful day helped some 🙂 Not much in the cravings department. I was so busy this morning I forgot to eat until around noon.
Checkout today's video update, yes it is outside today to enjoy the good weather. 🙂
Yes, I did splurge today and got a Low Carb Burger from Carl's Jr. OMG! It was so good. I didn't even miss the bun, in fact, I think it is better with out the bun. Wrapped in lettuce with cheese, onion, tomato, and mayo. They do come with pickles, but I tossed those (pickles do not belong on a burger!) Yes, they are a little messy but so worth it. Here is a pic.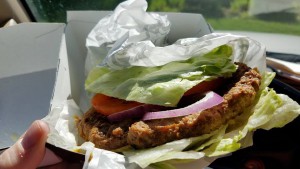 If this helps you and/or inspires you please let me know. I would love to hear from you.
~Marlo