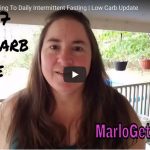 Day 537: Recommiting To Daily Intermittent Fasting | Low Carb Update




Been super busy critter sitting and that has really thrown off my daily intermittent fasting schedule. I am recommitting to a minimum 16 hours per day of fasting.
Watch my update below for all the details.
If this helps you and/or inspires you please let me know. I would love to hear from you and love to help you get healthy, lose weight and just feel better!
Check back tomorrow for another update.