Review: Low Carb Brownies by CarbRite Diet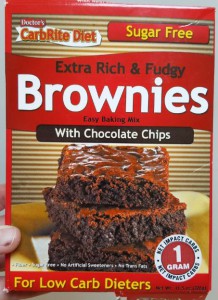 I am loving my low carb high fat lifestyle, but sometimes I need something sweet and yummy. I was doing some searching and found the Low Carb Brownie mix by CarbRite Diet. I decided to order it and give it a try, so of course I had to do a review and share my findings. 🙂
These low carb brownies are sugar free, have no artificial sweeteners, and no trans fats. The box makes 12 brownies.
Each brownies contains:
204 calories
12g fat
5g protein
19 total carbs
3g figer
15g sugar alcohols
1 net carb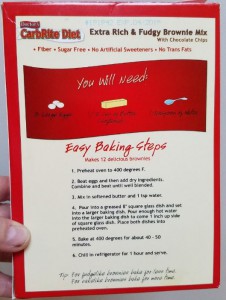 The box and bag inside look very much like a regular box of brownie mix. The directions are a little different.
You will need to add:
3 Large Eggs
1/2 Cup of Butter (softened)
1 tsp of water
Baking Instructions:
Preheat oven to 400 degrees F.
Beat eggs and then add dry ingredients.
Mix in softened butter and 1 tsp water.
Pour into a greased 8″ square glass dish and set into a larger baking dish. Pour enough hot water into the larger baking dish to come 1 inch up the side of the square glass dish. Place both dishes into preheated oven.
Bake at 400 degrees for about 40-50 minutes.
Chill in refrigerator for 1 hour and serve.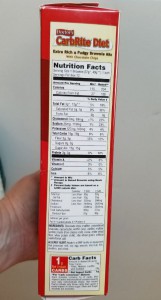 Tip: For fudge-like brownies bake for less time. For cake-like brownies bake for more time.
I did not have an 8 in square pan, so I used and 8 x 11.5 in glass pan and put it inside a 9 x 13 in glass pan. I did not beat the eggs first. I just combined all the ingredients in a bowl and mixed well. I greased the smaller pan with spray coconut oil and poured the batter in. Then I added hot water to the larger pan until it was about an inch up the side of the smaller pan. I baked them for 50 minutes at 400 degrees.
When I took them out of the oven they looked really good and I wasn't sure why they needed to be chilled in the refrigerator so I just let them sit for about an hour instead.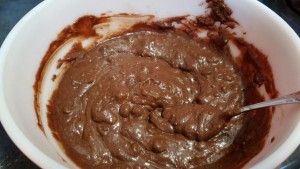 After waiting patiently for an hour, I cut up the brownies and took my first bite. Oh my, they are so good. The consistency was very pleasing and cake brownie like. They tasted chocolatey but not overly sweet.I did not feel a sugar spike or that yucky carb overload feeling after eating them.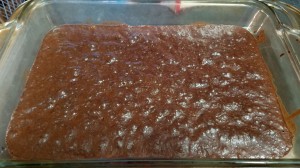 My conclusion: The Low Carb Brownie Mix by CarbRite Diet makes awesome low carb brownies. They are very satisfying and with just 1 net carb they are a great special treat for any occasion.  Since they do have sugar alcohols, I do not recommend eating them too often especially if you are just starting out on your low carb journey and/or are in the weight loss stage. I know for me too many sugar alcohols can temporarily stall my ketosis and weight loss.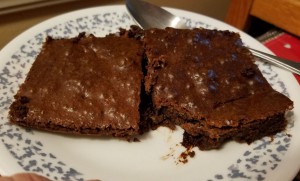 If you want to try these brownies, click the link below to buy on Amazon:
Doctor's CarbRite Diet – Chocolate Chip Brownie Mix, 11.5 oz
Please note some links on this site are affiliate links and I may earn a small commission that helps pay for my website costs. Thank you! 🙂