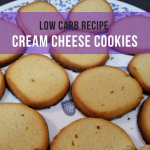 Low Carb Cream Cheese Cookies




I have a bit of a sweet tooth so I am always on the lookout for low carb sweet treat ideas and recipes. I found this one the other day and had to give it a try.
These low carb cream cheese cookies really hit the spot and with only 0.5 net carbs per cookie they will not knock you off your keto groove. I love them by themselves and they would also be great with some Halo Top low carb ice cream, or some sugar free jelly to spice them up.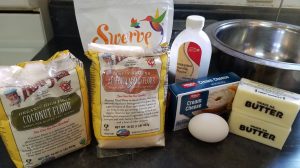 Ingredients:
Directions:
Cream butter and sweetener until light and fluffy
Beat in the cream cheese
Add egg
Stir in the flours, then mix in vanilla
Chill dough in refrigerator for 4 hours
Roll dough into a log with plastic wrap (can also use cookie press)
Cut into 1/4 inch slices
Bake at 350 degrees until cookies begin to brown (about 10-12 minutes) Cook longer for crisper cookies
Optional:
You can substitute other extracts for the vanilla to change the flavor
Nutrition Info:
Approximate per cookie – 51 calories, 4.8g fat, 24mg sodium, 1.1g carb, 0.6g fiber, 0.5 net carb, 1g protein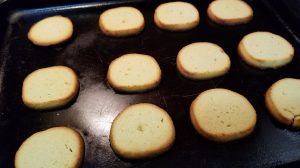 This was a really quick and easy recipe to follow. Be sure to let your butter and cream cheese sit out a while to soften. This will make the creaming and mixing much easier. The cookies were a little crumbly when they fist came out of the oven but they firmed up after they cooled down. These are super yummy. 🙂
~Marlo
Inspired by this recipe.