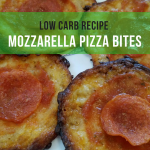 Low Carb Mozzarella Pizza Bites




If you are like me you love pizza, but now that I am living a low carb lifestyle I can't eat all those carbs. The crust is the carby part of the pizza….enter the crust-less pizza. 🙂
This Low Carb Mozzarella Pizza Bites recipe is the answer to your pizza dreams…at least mine. This is so good…all the taste without the carb guilt. I love the burnt cheese taste. 🙂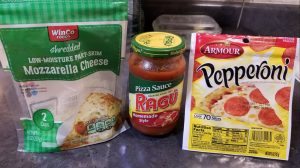 Ingredients:
Mozzarella Cheese
Pizza Sauce (look for lowest carb value)
Sliced Pepperoni
Directions:
Set oven to 350 degrees
Line cookie sheet with parchment paper
Place small handfuls of mozzarella on the parchment paper in the baking sheet. Leave some space around each so the cheese can spread as it melts. Keep an eye on it and remove them from the oven when the tops are browned.
Place a paper towel on a microwavable plate. Place pepperoni slices (enough for 1 or 2 per cheese pile) on the paper towel in a single layer. Microwave for 10 to 15 seconds
Once the mozzarella bases have cooled a little (they will harden some), remove from tray
Add a teaspoon of pizza sauce on each cheese base and spread around a little
Add pepperoni on top of the sauce
Enjoy!
Optional:
You can add more low carb ingredients to your liking…olives, sausage, bell peppers, onions, mushrooms
Nutrition Info:
These come out to around 1 net carb each. The Mozzarella has <1g per 1/4 cup. The pepperoni is 1g per 16 slices. The pizza sauce I used has 4g carbs per 1/4 cup. I use much less than that.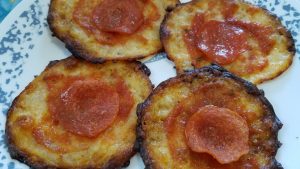 We really enjoyed these. Hope you do too. 🙂
~Marlo
Inspired by this recipe.